Housekeeping Melbourne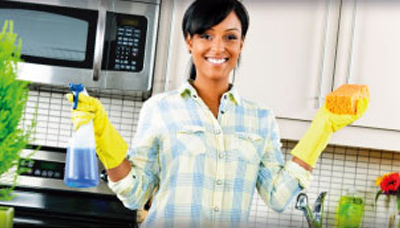 We understand your home is your sanctuary and a place to escape from the stresses of the outside world, but it's not always that easy to keep it looking like a sanctuary! If you need an efficient and thorough housekeeping Melbourne team, then look no further.
Our cleaning network go through meticulous training schemes, to ensure they are well versed in all types of cleaning and meet our high expectations. They are highly qualified, fully insured and professionally vetted to guarantee our network is only of the highest calibre.
We will work closely with you to understand your specific needs and offer you a checklist to tick off after every clean, ensuring you are 100% satisfied every time. Fill out one of our instant quote forms to have one of our network of highly skilled cleaners sprucing up your home today!
Blast Germs from the Kitchen
The kitchen is the most important place to keep clean, as food is prepared and eaten here. A Melbourne housekeeper will dust, mop, vacuum, scrub, polish and sanitise every inch of your kitchen. Germs don't stand a chance!
Beautify the Bathroom
Bathrooms are where we keep ourselves clean and all the dirt and debris we wash off ourselves can build up, leaving grimy surfaces and a build-up of bacteria. Our network of cleaners will sanitise the whole area so you can enjoy relaxing bubble baths in a fresh space. No job is too big or too small!
Bring Tranquillity to the Bedroom
Your bedroom is your personal area, and needs to be a tranquil space so you get a good rest. Dirt and mess is not relaxing, but you can rely on our cleaning network to clean, organise and restore calm to your place of rest.
If you would like more information on our housekeeping Melbourne services, please give one of our friendly team a call on 03 8616 0781.

Below you will find a detailed list of our services, grouped by area:
Clean and sanitise fridge interior/exterior
Clean and sanitise microwave interior/exterior
Clean appliance exteriors
Clean range hood
Scrub sinks around facet and drain area
Clean oven interior and exterior
Clean taps
Clean splashbacks
Clean stovetop
Clean and sanitise bench tops
Clean interior/exterior of cupboards (3 metres high)

Dust surfaces
Dust skirting boards
Dust window sills and tracks – 3 metres high
Polishing
Clean door trimmings and handles
Vacuum carpets
Mop all surface types (vinyl, tiles, wooden flooring)
Interior cobwebs removed - 3 metres high
Clean interior windows only - 3 metres high

Disinfect the toilet
Sanitise the basin
Clean sink and taps
Clean mirrors with a streak free solution
Clean splash backs and vanity surfaces
Clean cupboard interior/exterior
Clean bath or shower unit to remove grime

Clean cupboard interior
Clean cupboard exterior
Clean mirrors